Product details

scheda prodotto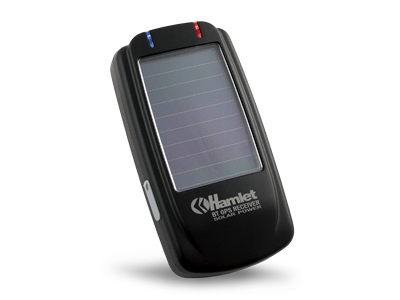 HBTGPSOL
Ricevitore GPS Bluetooth con pannello solare
CODE: HBTGPSOL
EAN: 5391508633681
compatibile con





Product menu
versione stampabile

Product description
Ricevitore GPS portatile senza fili compatibile con i programmi di navigazione. Si collega senza fili a dispositivi compatibili quali telefoni cellulari, computer o palmari dotati di tecnologia Bluetooth. Il pannello solare carica le batterie anche con il GPS spento.
Caratteristiche
Compatibile con telefoni cellulari, palmari e PDA
Precisione della posizione entro 5m
Compatibile con i software di navigazione
Batterie ricaricabili Li-Ion (compatibili Nokia modello BL-5C)
Carica batteria da 12 e 220 Volt incluso
Features
Protocol: NMEA0183 GGA, GSA, GSV, RMC
Baud Rate: 9600, N, 8, 1
Max. Update Rate: 1 Hz
Datum: WGS84
Channel: 8 channel all-in-view tracking
Frequency: L1, 1575.42MHz
Hot Start: 8-12 sec. Average
Warm Start: <42 sec. Average
Cold Start: 120 sec. Average
Reacquisition Time: 100 ms
Position Accuracy: < 5M CEP (50%), 7M CEP (95%) W/O SA
Power supply: DC 6V
Power consumption: 45 mA continuous mode
Battery Life: 20Hrs (normal mode) 30Hrs (solar battery)
Antenna Type: Built in active antenna
External Antenna Interface: MMCX
Bluetooth: Class 2, distance up to 10 meters
Dimension: 103(L) x 55(W) x 22(H) mm
LED Indicator: GPS is fix or not fix. Power ON
Operating Temperature: -10°C to + 70°C
Storage Temperature: -40°C to + 85°C
Operation Humidity: 95%, Non-Condensing
Contenuto della scatola
Antenna GPS
Guida rapida (Italiano e Inglese)
Cd-rom con utility e manuale
Cavo USB
Batteria ricaricabile Li-Ion
Alimentatore esterno (5V-500mA)
Alimentatore da auto
NOTA: Alcuni dispositivi iOS potrebbero limitare e/o non accettare lo scambio di informazioni relative alla posizione GPS via Bluetooth.
Le specifiche e le caratteristiche esteriori del prodotto sono indicative e possono variare senza obbligo di preavviso.