Product details

scheda prodotto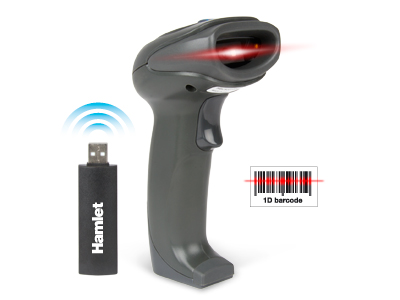 HBCS1D10W
Barcode Scanner Laser 1D Wireless per Codici Lineari
CODE: HBCS1D10W
EAN: 8000130592668
compatibile con
Product menu
versione stampabile

Product description
Hamlet HBCS1D10W è un lettore di codici a barre lineari (1D) wireless ideale per il punto vendita e la logistica. La tecnologia di scansione laser 1D offre ottime prestazioni di lettura per tutti i codici a barre di tipo lineare come EAN e UPC. La leggerezza e il design ergonomico permettono un utilizzo prolungato senza fatica. Il barcode scanner HBCS1D10W è dotato di batteria al litio da 2200 mAh che consente un utilizzo prolungato senza bisogno di ricarica. La batteria si ricarica tramite una normale porta USB col cavo fornito in dotazione.
Caratteristiche
Barcode scanner manuale a tecnologia laser 1D per codici a barre lineari
Barcode supportati: EAN-8, EAN-13, UPC-A, UPC-E, Code 39, Code 39 (Code 32 o Codice Farmaceutico), Code 93, Code 128, EAN 128, Codabar, Industrial 2 of 5, Interleaved 2 of 5, Matrix 2 of 5, MSI, Plessey, Code 11, Aerial 25 (IATA 2 of 5), Postal 25 (China Postal Code/Datalogic 2 of 5)*
Elevata frequenza di scansione fino a 300 scansioni/secondo
Lettura manuale o automatica per scansioni a mani libere
Funzionalità Inventory Mode (Modalità Inventario)
Ricevitore USB wireless
Raggio d'azione wireless: fino a 80 m (senza ostacoli)
Batteria al Litio: 2200 mAh
Dimensioni: 154 x 85 x 62 mm
Peso: 200 g
Compatibile con: Windows, Mac, Linux, Android
Contenuto della confezione
Barcode Scanner 1D Laser Wireless
Ricevitore wireless USB
Cavo di ricarica
Alimentatore
Manuale d'uso
* L'elenco dei codici di programmazione è disponibile nel manuale completo scaricabile nell'area download.
Le specifiche e le caratteristiche esteriori del prodotto sono indicative e possono variare senza obbligo di preavviso.