Product details

scheda prodotto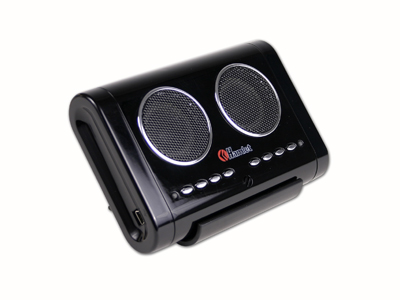 HSKVOIC
USB Speakerphone communicator
CODE: HSKVOIC
EAN: 5391508633629
compatibile con

Product menu
versione stampabile

Product description
Desktop Free Voice è progettato per gli utenti che utilizzano frequentemente i sistemi vocali come Skype, NetMeeting o altri servizi di telefonia VOIP con il vantaggio della funzione viva voce a mani libere. E' provvisto di tecnologia per la cancellazione dell'eco e pulsanti di inizio e fine conversazione che consento di rispondere ad una chiamata e terminarla con la semplice pressione di un tasto.
Caratteristiche tecniche
Integrates two 1.5" Speakers & one microphone
Includes Skype hook on/off-button for hands-free VoIP environment
Supports two Skype speed dial buttons
Highly support with Skype Internet telephony
Supports Microsoft's Netmeeting, MSN messenger, Yahoo Messenger & Net2phone
Echo cancellation
Support one microphone & one 3.5mm audio output connectors
Adopted latest Xear 3D technology, support EAX, A3D acoustics effect
Powerful 10-band pre-set equalizer (EQ) sound effect by software
USB section mini-USB to Type A plug
USB cord length Approx 1.8m
Compliant with Win98SE/ME/XP/2000
1 x 3.5mm microphone connector
1 x 3.5mm audio output connector
2 x Speaker 1.5'' magnetically shielded
Maximum output power 1.6 watt (R.M.S)
LED Indicators
FCC/CE/VCCI Class B
Contenuto della scatola
Desktop Free Voice
Supporto per Desktop Free Voice
Guida rapida (Italiano e Inglese)
Cd-rom con drivers, manuale e utility
Microfono esterno
Cavo USB
Le specifiche e le caratteristiche esteriori del prodotto sono indicative e possono variare senza obbligo di preavviso.