Product details

scheda prodotto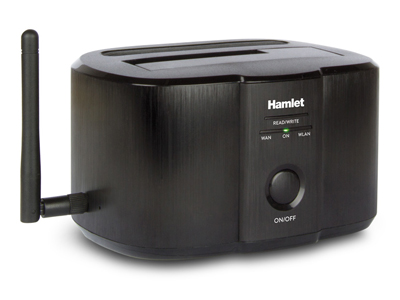 HXDDWIFI
Docking Station Wi-Fi Single Bay per Hard Disk SATA 2.5"/3.5"
CODE: HXDDWIFI
EAN: 8000130591517
compatibile con








Product menu
versione stampabile

Product description
Hamlet Wi-Fi Docking Station offre un modo rapido e semplice per accedere e condividere i file archiviati in un disco SATA da 2,5" o 3,5" tramite la rete Wi-Fi da Smartphone, Tablet PC, Computer o altri dispositivi wireless. La App gratuita per iOS e Android è disponibile per il download su App Store e Google Play. Inoltre, Wi-Fi Docking Station supporta le tecnologie DLNA e UPnP per la massima semplicità di condivisione dei contenuti multimediali. Grazie alle funzioni Plug and Play e Hot-Swap, basta inserire l'hard disk nella docking station per accedere immediatamente ai vostri file. Il collegamento diretto al computer tramite il cavo USB 3.0 in dotazione consente la massima velocità di trasferimento dati.
Caratteristiche
Docking station Wi-Fi per Hard Disk SATA da 2.5"/3.5"
Interfaccia wireless IEEE 802.11b/g/n fino a 150Mbps
Interfaccia SuperSpeed USB 3.0
Supporta HDD o SSD SATA I/II/III
App gratuita per iOS e Android
Supporta server SAMBA/DLNA
Solido case in alluminio e plastica
Indicatori di attività LED
Supporta funzione Plug and Play e Hot-Swap
Specifiche tecniche
Interfaccia USB 3.0 trasferimento dati fino a 5Gbps
Retro compatibile con USB 2.0/1.1
Supporta 1 Hard Disk SATA I/II/III da 2.5" o 3.5"
Interfaccia Serial ATA III fino a 6Gbps
Interfaccia Wi-Fi IEEE 802.11b/g/n 150Mbps
Supporta crittografia wireless WEP/WPA/WPA2
1x Porta LAN RJ45 10/100Mbps
Supporta Universal Plug and Play (UPnP)
Alimentatore di rete: Ingresso: AC 100~240V, 50~60Hz, 0.8A; Uscita: DC 12V, 2A
Compatibile con Windows XP/Vista/7/8/10/11, Mac OS 10.4 o superiore, Linux, Android e iOS
Dimensioni: 142 × 103 × 83 mm
Peso: 350 g
Contenuto della scatola
Wi-Fi Docking Station
Cavo USB 3.0
Alimentatore
Manuale utente
Le specifiche e le caratteristiche esteriori del prodotto sono indicative e possono variare senza obbligo di preavviso.